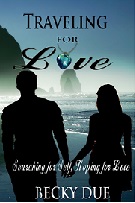 Amanda's life is suddenly turned upside down when her husband tells her he wants a divorce. She realizes she no longer knows who she is - her life revolved around her husband. At age 40, she finds herself divorced, living in an apartment with a roommate, with little education and no career path. Will she find the career of her dreams? Can Amanda heal her pain and find love again? To get your copy of Traveling for Love, click here.



   "This book was AMAZING! ...I picked it up this morning and couldn't put it down until it was finished! I love books like that."
Recommended!
   "This is an engaging, entertaining novel that will appeal to fans of women's fiction... Amanda's voice is honest and vulnerable, and the writing is fluid and smooth and kept me reading and interested in the outcome. I also enjoyed all the travels and felt myself transported to exotic places. The author explores themes of gender roles, divorce, and loneliness. Recommended!"

   "This is a quick read... the type of book you just don't want to put down. I feel all women can relate to this story no matter what your personal love life history is."

   "You'll have to read this book; it's about one woman's journey to find herself. Reminds me a little of Eat, Pray, Love, But so much better. I give this book a 5 stars and can't wait for the next book by Becky Due!"
Recommended!
   "If you need something to read while at the beach this summer, you have got to grab a copy of Traveling for Love: Searching for Self, Hoping for Love by multi-published author Becky Due. This book is fantastic. If your husband asked you for a divorce, what would you do and how would that make you feel? Like dirt? You betcha. Find out how Amanda overcomes the odds while digging your toes into the hot sand!"