The Gentlemen's Club: A Story For All Women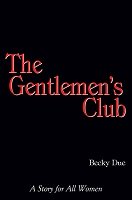 Angie doesn't want to be a victim anymore. Deep down what she hopes for most is to find a good man to love and to feel safe and protected in this crazy world... but her fears take her down the wrong path. Angie befriends other women down on their luck and they team up to get revenge. Can Angie let go of her pain and escape the Cycle of Abuse? Will she and her friends go too far to get revenge? Will Angie find the love and protection she's looking for?
To get your copy of The Gentlemen's Club, click here.

Five Star Reviews

   "A little girl faces physical & mental child abuse-growing up she deals with this and her mother being abused also. She becomes a young adult who lives out of her car struggling with dead end jobs until she lands a good job stripping which was short lived. Along the way she meets her new best friend and bond quickly. She ended up writing newspaper articles, woman articles for a local newspaper, stripping being one of them. How do they let themselves be subservient to those men. Why would they want to parade in front of them, or even go out on a date with them. It was just for the money and attention most would say. In todays society women are exploited everywhere. She also stresses that woman need to fight for the respect they deserve."



   "This is a book that deal with real world issues and geared toward women. Angie is one of the main characters in the book. Life has not always been good for Angie but she keeps hope that life will improve. The book deals with a lot of issues that women face in society. Some of the issues discussed in the book are molestation, rape, incest, sexual harassment and domestic violence. Some parts of the book are very raw to make the reader understand the reality of a subject. As well as, the book is very inspiring and leaves the reader rooting for the character to succeed. It's important to realize that as women we are in control of our future."



   "Everyone should read this book, but especially women. It is such a powerful story that really touches your heart. Angie, the main character, is such an amazing woman. For years, men have abused her. She has been through more than most people can even imagine and is now left homeless and really in a bad place emotionally. Most people would give up. Not Angie!! She decides that she will not be a second class citizen, she will not let her circumstances define her. Her struggle back is hard but she keeps going and even more admirable, finds other women like herself, and encourages and inspires them. You will really be impressed by this woman. I encourage you to not only read it but share it with other women in your life."



   "The Gentlemen's Club: A Story for All Women by Becky Due tells the story of Angie. It is a violent and ugly story as Angie confronts her own experiences of sexual abuse and the experiences of other women. As Angie examines her own life she develops the hope and determination that she will have a better life in the future. She will not let the degradation she has suffered at the hands of men control her life or her opinions. Angie's strength and example ultimately give hope to the women she encounters and she is able to teach them not to succumb to self-loathing and self-defeat. Angie's heroism and self-awareness provide an excellent role model for women and young girls in our society. This story should be assigned reading in every middle school and high school for girls and boys. Although it is violent and graphic, it also is an anthem to the virtue of following one's individual conscience and not accepting negative self-images presented by other people."



   "The Gentlemen's Club: A Story for All Women by Becky Due is an amazing book. I want every woman, girl, mother, or daughter to read this book. It tells about the life of Angie, a homeless woman whose experience with various forms of sexual abuse is mirrored by the life stories of the women she encounters. It is also a story of triumph as Angie and her friend Julie do not accept the conditions of fear and self-hate that afflict so many of the women in this novel. Angie and Julie teach the other women in the book to be proud and strong and to not accept a second class status. Though this book is a story about women and the abuse suffered by them at the hands of men, it is a story that is valuable for men and boys to read. If men and boys read this story, it would act as a wake up call for them to think about their actions."



   "The Gentlemen's Club: A Story for All Women is a strong, inspiring book written by Becky Due. I could not put it down. The author is a truly amazing writer who creates such powerful imagery. The story is about a woman named Angie who has so much against her but she still manages to keep a positive attitude and eventually overcome her past. This isn't just a feel good story about success. Due has added so many elements that are really important for all women to read about. As women, we need to stick together, help one another and this is one of the lessons this book emphasizes. There are so many more. You will learn so much and though you may not initially relate to Angie, so much of her is issues faced by all women. Some of the problems you will encounter reading this book are disturbing and upsetting but I think they are written well and add to the story. You will most likely cry a few tears before finishing this book but you will also smile big and laugh too. This is a great book and would be fun to read with a group of women friends."



   "Homeless and alone, Angie is taking a close look at her life. Her aspirations to be a writer are being pushed aside as she simply tries to survive in a difficult situation. But when she meets the vivacious Julie, she starts to open up and explore the path that has led her to this place, and begins the fight to escape her predicament. "The Gentlemen's Club" is the story of a woman's growth into a powerful and outspoken advocate for her gender. Told from the perspective of a young struggling write, the story relates how the oppression and fear inflicted by men upon Angie and her friends has eaten away at their self-esteem and self-respect. Eventually, Angie finds her inner strength again with the help of a close friend, and together they work towards guiding other women to the same achievement. Ultimately, Angie researches an article about the Gentlemen's Club, a prominent stripper's bar, and she and Julie set about freeing the women who work there from the histories that have kept them oppressed, cumulating in a powerful act of revenge. Becky Due is a very talented and intelligent writer. While her personal stance is ever-present in the novel, the individuality of each character comes across clearly and intensely. She has a strong message to deliver, and successfully does so with full and effective force. Her empathy with the plight of women is conveyed with great heart and passion, and she fills the characters' lives with enough trials and tribulations to make their present difficult situations believable and understandable. The author is a longtime advocate for women's issues, and volunteers with Victims Services and as a guest speaker. She is educated in both Journalism and Women's Studies. A percentage of the profits from the sale of this book go to `Alternatives to Violence.' With a very decidedly feminist perspective, this book offers a great deal for woman in the way of self-understanding and self-realization. It is a very valuable addition to the increasing mass of feminist literature."