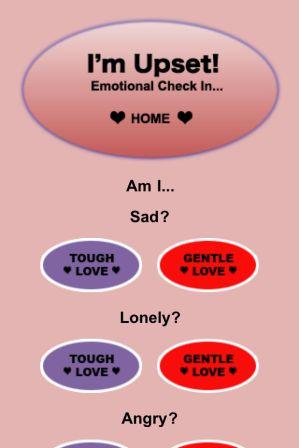 I'm Upset! is like having your two best friends in your purse—with you at all times—one who gives you Tough Love and one who is more about the Gentle Love. It doesn't matter what you're going through, this app is a quick and easy way to get that needed boost when you're just not feeling right. To download your I'm Upset! app, click here.

Don't let little upsets distract you from your awesome life.
Check in with I'm Upset!
Have fun with it... and tell your friends!
Returning Injury and The Dumpster inspired me to create the I'm Upset! app for women. I loved how Rebecca (from Returning Injury) checked in with herself—something I've learned to do over the years. I also loved how Nicole (from The Dumpster) had two amazing friends—Renee, who gave her tough love and Roxanne who was gentle and loving. These characters inspired me! You can download I'm Upset! for only 99¢


Very cool, fun and inspiring!

I'm Upset! It's good for when for when your feeling upset.

I'm Upset! This App is the best one yet!