For Your FREE Book...
Sign up for my newsletter, pick the book you'd like to read by filling out the form below, then wait for your book in the mail.
*WHILE SUPPLIES LAST *US ONLY
Sign up TODAY and also receive 2 Days to Healthy Self-Esteem, FREE!
You can expect one, maybe two, newsletters a year from me. I want to keep you updated on new releases, book tours, giveaways and events.
Now the fun part...
Pick Your 'Becky Due' Book... Which Book Do You Want To Read?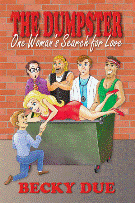 The Dumpster: One Woman's Search for Love (Novel) This Contemporary Romance Novel set in Miami, Florida is about Nicole, a cute, chubby, twenty-something woman who is looking for love in all the wrong places. Who would have guessed that a dumpster in the back alley below her bedroom window would hold the key to finding love?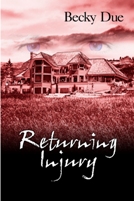 Returning Injury: A Suspense Celebrating Women's Strength (Novel) With Jack away on business, Rebecca's looking forward to four days alone to work on her new client's PR campaign to help women take back their lives. But her past intrudes. Roy, the man who stalked and assaulted her years before, has been released from prison. Home alone in her big, beautiful house out in the country, Rebecca has to learn to take back her own life while facing her fears and regaining her strength. But will she be strong enough when she faces the ultimate test?
Touchable Love: An Untraditional Love Story (Novel) This story is about a young woman who hasn't respected her body—she hasn't been careful with sex or her lifestyle choices—and fears she has contracted HIV. That fear causes her to avoid love, but when she enters the lives of two men, they teach her everything she needs to know about intimacy, and she gets another chance at love.
The Gentlemen's Club: A Story for All Women (Novel) Angie doesn't want to be a victim anymore. Deep down what she hopes for most is to find a good man to love and to feel safe in this world, but her fears take her down the wrong path. After befriending other women down on their luck, Angie and her friends decide to get revenge on men who go to strip clubs.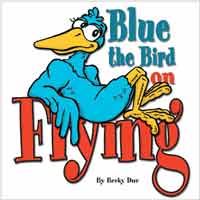 Blue the Bird: On Flying (Children's) Blue the Bird does not want to fly. Follow Blue's journey of self-discovery. Blue the Bird is a lesson on self-esteem and independence. Great for small children, teenagers with a false sense of entitlement, and adults who need a boost.
---
Don't forget to tell your friends!
Sign up for Becky's Newsletter and receive 2 Days to Healthy Self-Esteem,
FREE!